April 2022
If you are remodelling your kitchen, you should start with the essentials, before taking down or building any walls. Prioritise your storage needs. This is where kitchen steel rack design comes into play. You can keep your kitchen organised with steel racks and shelves.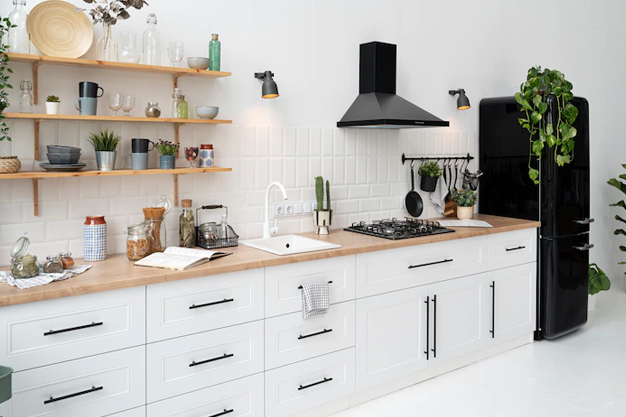 Best kitchen steel rack designs for an organised kitchen
Here is a list of top kitchen steel rack designs that would transform your kitchen.
1. Basic kitchen steel rack design
Are you looking for a place to store your teapots, mugs and other crockery sets? Consider this stainless kitchen steel rack design with two levels for separating your utensils. Place your teacups and pots on the top half of this stainless steel rack and your plates, spoons and bowls on the lower half. This rack is simple to use and can be placed anywhere in the kitchen.
2. Kitchen steel rack: Space-efficient hangers
You may choose a two or three-tier hanging kitchen rack to keep all spice jars together. This shelf is made of stainless steel, ensuring its longevity and corrosion resistance. As you will be hanging this rack in the kitchen, you can utilise the vertical space to store jars and containers that are normally placed on the kitchen counter.
3. Lift-up Pegasus kitchen steel rack design
If you are seeking a contemporary method to keep your dinnerware, this steel lift-up Pegasus rack may fit your needs. This Pegasus includes a lift-up mechanism with racks for plates and cups. You can now neatly and securely arrange your white ceramics or glass jars on the top rack space and your coffee or tea containers and cups on the bottom rack of this steel kitchen shelf. This Pegasus kitchen steel rack design is ideal for those who want to keep their ceramics out of the reach of children, to avoid breakage and mishaps.
4. Kitchen steel rack design for sink
This kitchen rack may be positioned above or next to a kitchen sink. This type of single-shelf kitchen steel rack design can save space on the kitchen countertop. It is also ideal for the empty space on the wall. These racks are made of stainless steel and come in a variety of colours to complement the decor of your kitchen.
5. Full-length kitchen steel rack design
Are you looking for a rack to keep your belongings or exhibit your plants? Check out the stainless steel kitchen rack shown below, for inspiration. You may use such full-size stainless steel rack shelves to store vegetables and fruits. It can also be used to exhibit crockery and plants or to store spices. These kitchen steel racks are a fantastic method to showcase your valuable China and antique dishes.
6. Kitchen steel rack design: Simple hanging hooks
Install this useful wall storage rack, preferably against a white wall, to hang your kitchen accessories like cutting boards, wooden or steel serving spoons, or spatulas. These storage options are open, have a breezy appearance and are durable and compact. When not in use, keep it dry. Wipe it clean regularly to prevent dirt from accumulating on the rods. Apart from being visually appealing, such hanging racks also offer versatility, because they can be easily adjusted.
7. Kitchen steel rack design for stacking dishes
This kitchen steel rack design is something that every kitchen can use. A dish rack improves ventilation and drainage, which shortens the drying time. Allowing the dishes to dry in the air is also a healthier alternative than towel drying, because you never know how clean or unclean the towel is. However, after finishing, fully dry the rack to avoid rusting. You will be able to maintain your kitchen looking brand new this way.
Source: housing.com
Also read: How to arrange funds for the down payment for a house?
Back to All Thane Real Estate Resources, Thane Property News and Articles
Share This: