August 24, 2017
Every house has a story to tell. Every buyer is an integral part of that story. Vinod Gupta recently retired from one of the biggest airlines company of India after 35 years of stellar service. On retiring, he received Rs 8 lakh as a part of his gratuity and provident fund. Though a native of Delhi, he used the money to purchase a house outside the city.
"I lived in an ancestral property in Old Delhi. I have five brothers who live in other cities and rarely used to visit me. I naturally didn't have a sole right on the property. Being the youngest, I decided to divide the property and use my share of money to invest elsewhere. I was also tired of living in a congested city in a locality which has more commercial feel rather than residential one. Most of our neighbours have moved out of the locality to the city's NCR nodes. Better lifestyle was the prime reason behind the move. I remained here, as I couldn't afford one."
A few years ago, Gupta married off his daughter. The lump sum money received on retiring and the money which he along with his brothers received by selling the ancestral home was used to invest elsewhere.
The ancestral property was sold off for Rs 4 crore. Out of which he got his 50 per cent share as he was the one paying property taxes and justified his part to be a major one as he also got the property vacated from tenants through legal process, which cost him over 6 lakh including lawyers' fees, etc.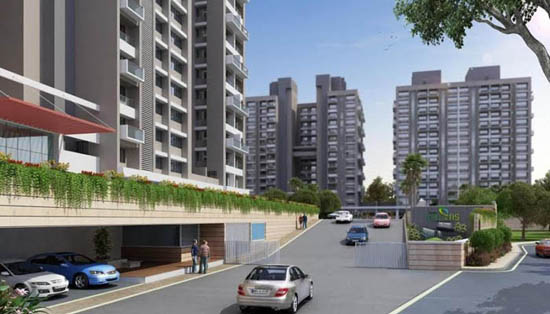 The major task was to search for a new home and in a city where his medical and spiritual needs were met. He wanted to stay close to his daughter settled in Mumbai and in a locality where he could contribute in community building activities.
Other than this, he looked for a project which had a gated community along with recreational area. Since the couple was aging, a property on ground floor was their priority. The ground floor in their chosen society gave them a small kitchen garden which was a bonus as the couple is interested in gardening.
When it comes to neighbourhood, availability of restaurants and proximity to shopping mall was also on his list. "Today we are fit and able to travel to other places but as the years go by we will need to have everyday amenities close by. Also, I have always been a movie buff but never got the chance to enjoy it. Now when I am retired, I would like to indulge." says Gupta.
"I was confused about the entire property search process. I didn't trust brokers and wasn't tech savvy. My daughter suggested me online research. She showed me Magicbricks' advice section. 'Find what your money can buy' section on advice.magicbricks.com was really helpful. I actually almost shortlisted my property through Magicbricks' only," shares Gupta.
Gupta chose Nashik as it was close to Pune, Mumbai and Shirdi, one of the famous religious towns of India. He finally bought a ready-to-move-in 3BHK flat for Rs 50 lakh, excluding stamp duty, registry charges, PLC and other extra charges which isn't included in base price. This made him save over a crore rupees. Nashik is a small city where monthly expenditure is lesser than Delhi and where even commuting was expensive. This way I bought #MyFirstHome at the age of 70.
"Since relocation management would prove tough from Delhi to Nashik, I chose to buy a fully furnished flat and sell off the old furniture to generate extra cash. The amount collected from selling off old furniture nearly covered the extra expenditure of a furnished flat." says Gupta.
This is one of the million stories related to property purchase floating in the real estate market. If you have bought a house and have a story to share, then do tell. We are listening!
Source: magicbricks.com