September 29, 2017

Home automation is a term that finds excessive use these days. Simply put, smart homes are associated with a system that provisions centralised control of lighting, heating, ventilation & air-conditioning (HVAC) appliances, shades, AV systems, security locks of gates.

With the number of smart devices – smartphones, tablets and now the smartwatch on the rise, interconnection and communication has become a useful and desirable feature.
Why Home Automation?
Home automation means convenience, efficiency, comfort and security. Here is how it works:
Convenience: Easy access to dim or increase the intensity of lights, control shades etc with the touch of a button on your tablet/smartphone or a dynamic keypad.
Efficiency: Automation systems help easily control and reduce the power consumption of electrical appliances and fittings.
Comfort: Automation can present environments for you without any real effort. Security: Using automation sensors and communications technologies, homes can be carefully and constantly monitored from anywhere.
How it works: For example, remote monitoring in home automation could be triggered when a smoke detector detects a fire or smoke condition, causing all lights in the house to blink to alert any occupants of the house to the possible emergency. If the house is equipped with a home theater, the home automation system can shut down all audio and video components to avoid distractions, or make an audible announcement.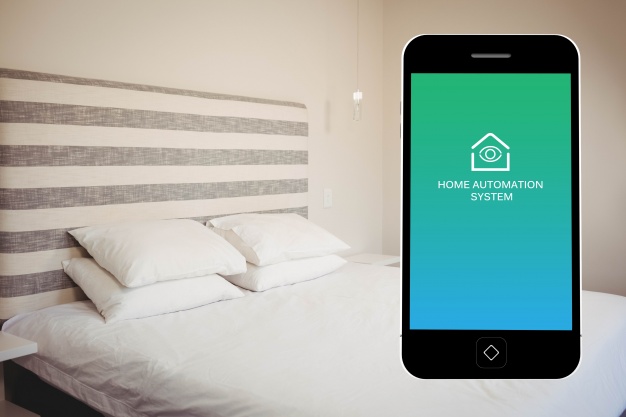 How to do it?
Building a smart house requires basic thoughts on design and technology. Taking control of things should be done unobtrusively and ensuring maximum efficiency.

Things to keep in mind
There are a few things that one needs to keep in mind while considering the shift. With the advent of wireless solutions, a retrofit installation is much more affordable than in the past. However, planning for home automation when building a new home remains the optimum opportunity to install the technology of your choice and save on infrastructure costs.

If you are building/planning to build a new home and are planning to install home automation systems, it is important to plan it in the early phase. It is always less expensive to install home automation systems while a home is being built rather than to wait till the very end.
With the architecture that you are looking at for your new home, the technology will be incorporated into it accordingly, blending in perfectly. Thinking of automation synchronously with construction plan means that the touch panels, keypads can easily be flush mounted into the walls.
Once installed, the wiring needed for automation systems can be used to add more devices like speakers, televisions, security systems etc. But it is imperative to have all the connections in place well in advance. It not only reduces the cost upfront but also gets rid of the trouble that one has to undergo with the change or addition to wiring once you are residing in the home. In fact, home automation providers these days are working closely with interior designers and architects to help coordinate your living style with controls that might be required.
State-of-the-art light automation systems involve the use of wireless switches and dimmers as against manual switches. To determine which lights need automation it is useful to think of lighting scenes.
Typical lighting scenes are sunset, night lights, morning time, dinner, party, entertainment. A room with different kinds of lighting can serve various purposes – movie screening or reading which is determined by the intensity of light. These scenes provide certain lighting levels depending on the time of day or a particular event taking place in the home. Once you have defined the scenes that you most closely associate yourself with, you can identify the lights needed to accomplish each scene. After you complete the identification process you'll have a total count of the number of dimmers/switches needed to support your desired scenes.
Installation and cost
No matter what sort of system you're planning to install, it is recommended to speak to an experienced system integrator first. Not only will they be able to advise you on what kind of system will best suit your needs, but they can also help to ensure that it's installed in the most efficient and cost effective way.
Your preference might be to have automation with regards to lighting and shade control only, with no relevance of AV or security system; the cost in this case will be less than if you were to go for an extensive system. Simple systems can be installed reasonably cheaply.
Your budget is the only real limit to what you can do to make your house a smart home. You would have an optimised system when you involve the company or integrator in the design phase of the project.
You may go in for a wall mounted dynamic keypad that serves as a central control for all the automated systems in your home or even have access to all the systems by means of an app on your phone so you could control everything on the move especially when you are not at home. Create "scenes" with HomeWorks QS — preset light and shade levels that you can recall at the touch of a button.
For example, press the "Entertain" button on the keypad in your living room and lights and shades will adjust throughout your home to create just the right light. Additionally, you can even go in for sensor based features that automatically switch on or switch off the lights every time you enter or exit a room.
What should one avoid when planning for home automation?
Homeowners should differentiate between what is "must have" and what is "nice to have" especially when you have budget limitation. You should avoid choosing systems which are very complicated to program or make change afterwards because your needs or preferences may change over time.
Reliability is a major factor for these systems. Look for old referral projects from companies. If it always requires complicated programming to change settings by trained professionals, it can bring you a lot of inconvenience and additional cost over time. You should also avoid relying on one single point of control, especially when it's done via Wi-Fi because if the network is down, you will then have no control of your home devices. Apart from integrated control via a central controller, it's always good to have individual controls especially wall-mounted keypads, which are always accessible and seldom fail.
For an average household, you can save up to 60% of your lighting energy and 10-30% of your heating and cooling costs by adopting various strategies such as occupancy sensing, daylight harvesting, personal dimming control, automated shading, plug load control and time scheduling etc. Dimming your lights by 25% can save 20% energy.
Automated shades can help block harmful UV and solar heat gain, thus lowering energy consumption by air-conditioners. So a home automation with total control of electric light and daylight will not only create a comfortable living environment, but also help save energy and money, while contributing to a greener planet.
Source: Indian Express