November 2017
The main purpose of a weekend home or second home, is to provide an avenue for recreation and to spend time away from one's regular routine. Consequently, weekend homes are generally located away from urban areas.
A home buyer invests in a second home for two main reasons:
To use the property for one's own purpose or to rent it out.
As an additional investment over the long-term period.
"Sometimes, the purpose is to spend quality time with family, or pursue hobbies like reading, playing sports or engaging in other activities that may be related to the location of the weekend house," says Anubhav Jain, director, Group Silverglades.
For example, weekend homes near golf courses provide recreational value to the buyer, while a home in the hills or on a beach provides a serene view, all while living in a home away from home, Jain elaborates.
Why do you Want to Buy the Second Home
Experts believe that one should buy a second home property for self-use, only if they can commit themselves to spending a good deal of time at that home. Dharmesh Jain, chairman and managing director of Nirmal Lifestyle, points out that the advantage of buying a home for self-use, is that the home buyer can move into or occupy the property at his/her discretion. The home could be in could be a picnic spot, or in a hill station that has a pleasant climate and away from noisy urban areas, or in a location where the family can get together for parties, he says. However, there is also a segment of buyers, who tend to use real estate as a source of income generation.
ROI Prospects of a Second Home
The ROI prospects of the second home, depends on factors such as:
The location of the second home.
Rental demand in the area.
Social and physical infrastructure in the region.
Overhead cost, such as maintenance charges, car parking charges, etc.
Availability of public transport
For example, the cost of a second home in the Mumbai's suburban area such as Navi Mumbai, will be low, as compared to a house in Mumbai city. While a home of 1,200 sq ft in Navi Mumbai, would cost approximately Rs 90 lakhs to Rs 1.1 crores, a similar-sized home in Mumbai city will cost around Rs 1.5-1.8 crores. However, the rental return for a second home in Navi Mumbai is around 3%-4%, while the same for a first home in Mumbai is close to 5% of the capital value. The maintenance and other variable cost, will also be higher for a first home within the city area, in comparison to a second home at a distant location.
Moreover, within the second home segment itself, a property that is close to commercial spaces and offices (such as Thane), is likely to give higher ROI than a second home in a secluded location (such as Kharghar).
How to select a second home that suits your needs
"One of the most important things, when you plan to buy a second home, is to select the right location. The second home should not be too far away from the city. Another major thing, is to determine how much the second home would cost," suggests Jain.
Buyers should also study the demand and supply in the desired neighbourhood and opt for a second home that is easy to rent out and earn rental income, as well as providing capital appreciation over the years.
First home vs second home: Key differences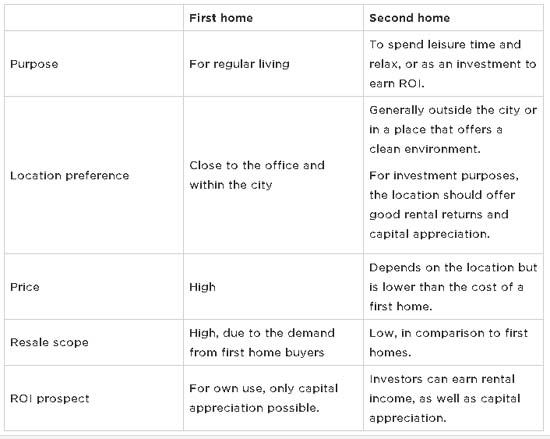 Source : housing.com
Read all Real Estate / Property Articles
Source: housing.com